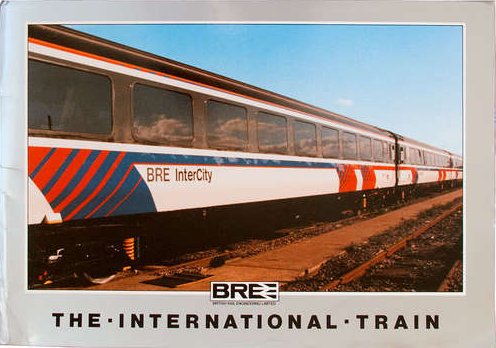 BREL's 'International Train'
On September 15th 1986 ten innovative coaches were unveiled by BREL at their Litchurch Lane works in Derby. They were designed as a promotional 'International Train' being an opportunity to showcase the talents of BREL with a view to acquiring orders from BR and from other countries.

They were similar to Mk3 coaches with BT10 bogies but had a slightly different body profile and, for the first time on main line stock in the UK, automatic sliding doors and a maximum speed of 110 mile/h.

The coaches were numbered as follows:

99520 (BFK); 99521 and 99522 (FO); 99523 (RUM); 99524; 99525; 99526; 99527; 99528 and 99529 (all TSO) plus the mystery 11th un-liveried coach 99519 - see below.

The interior of the BFK coach featured a double conference compartment with semi-circular bench-type seating amongst other things.
Here are some B&W pictures of the interiors
Click on the picture for a bigger image - photos are courtesy of Henry Law
| | | | |
| --- | --- | --- | --- |
| | The exterior door with folding footstep | | The corridor of the Brake First Corridor coach (BFK) 99520 |
| | Inside one of the Tourist Second Opens (TSO) | | Another shot of a Tourist Second Open (TSO) |
| | Inside one of the first open coaches (FO) | | Another view of a First Open |
| | Inside the double conference compartment with the semi-circular bench-type seating where my colleague and I passed the night 'somewhere in France' on the way to Hamburg in 1988 | | How train seating should be |
| | Hostesses on the platform at Manchester Piccadilly | | The train at Manchester Piccadilly with TSO 99527 |
| | Another shot of the train at Manchester Piccadilly | | The exterior door showing the illuminated footstep |
Rail magazine, issue 62, of November 1986 reported on the launch of the train on Wednesday September 17th with a press run from Euston to Manchester and return via Birmingham. I have a video produced by BREL at the time.
Here are some B&W pictures of the introduction run
Click on the picture for a bigger image
The train hauled by a class 86 loco heads north through Lichfield Trent Valley on its way to Manchester on Wednesday September 17th

Unknown

Photo of the centre vehicles of the train

Unknown

T

he rear coaches of the train

Unknown
The coaches were put into service on a Euston-Manchester diagram for a short period later that year but were withdrawn from passenger service and were subsequently used extensively for test loads with the class 89 locomotive.
In 1988 two examples (RUM 99523 and BFK 99520) were taken to the IVA88 exhibition in Hamburg but no orders were forthcoming.
Here are a few photographs of the coaches at the RTC, at Old Dalby, on the WCML and en route to Germany in the late 1980's
Click on the picture for a bigger image - photos are the author's unless otherwise indicated
One of the International coaches pictured in the EDU at Derby, probably in 1986

Author's collection

A rake of five coaches in the yard at RTC in the summer of 1987

Author's collection

A reproduction of the emblem

carried by the International coaches - taken from a coaster issued at the time

The class 89 loco passes Ledburn Jcn with a couple of test cars and six International coaches in tow on 28th April 1987

Martyn D. Hull

Five of the International coaches are show here behind the Class 89 on Shap on May 6th 1987 with R&DD's Lab 6 'Prometheus' and DM&EE's Test Car 10

Peter J Robinson

BFK Coach No:99520 at Old Dalby whilst a special train for IVA88 in Hamburg undertook some brake testing prior to going to Germany - pictured on Friday 20th May 1988

Author's collection

The special train for IVA88 waits in the sidings at Dover Town Yard under Shakespeare Cliff on 23rd May 1988 with the BFK International coach 99520 nearest the camera.

The

coaches were chained down to the deck on the 'Nord Pas de Calais' train ferry en route to Germany on 23rd May 1988 - BFK Coach No:99520 nearest the camera.

On show in the sidings at Hamburg Exhibition site

The visitors were impressed by the International Coaches

RUM Coach 99523 being propelled onto the train ferry at Dunkerque on 17th June 1988
Although at least one coach (99529) was fitted with T4 bogies from new, they were eventually equipped with BT10 bogies. However in late 1986 opportunity was taken to test the T4 bogie at high speed and they were fitted to an additional un-branded International coach No:99519 and tested on the ECML at up to 145 mile/h.
The high speed test train comprising two power cars (Nos. 43109 and 43118), two Laboratory coaches,

Lab One and Lab 15 'Argus'

a Mk3 TSO

and

99519,

the extra 'International' coach fitted with the T4 bogies, is pictured passing York Yard North on Saturday, November 8 1986 during one of the York-Darlington tests.

Peter J. Robinson

On the same day it was pictured at York Station

99519 was the eleventh coach in the BREL International Train coaches (numbered 99520 to 99529 & fitted with BT10 bogies). This coach was used to test the T4 bogies on the ECML at speeds up to 145mile/h. It looks like it was cobbled together judging by the different style of windows and door detail.

It didn't make it to Ireland when the rake of ten were sold to CIE and its fate is unknown.

53A Models- Flickr

Unfortunately, the T4 bogie was not chosen for fitting to the Mk4 coaches but did find favour on the Mk3 DVT's.

BREL

A Mk3 DVT fitted with T4 bogies heads a southbound working at Crewe in 1999

Author
During the late 90s active lateral suspension was fitted to TSO 99529 as a trial but although it was extensively tested the active suspension was not pursued.
TSO 99529 at Derby Litchurch Lane fitted with T4 bogies with active lateral suspension in 1991.

Authors collection

Another view

Authors collection

In October 1991 Class 47 No 47973 'Derby Evening Telegraph' stands outside the compound at the Old Dalby test track with three coaches from BREL's 'International' Train i.e. BFK 99520, TSO 99529 fitted with T4 bogies with active lateral suspension and 99523 RUM Buffet plus R&DD's Lab 15 'Argus'

Steve Andrews
After languishing in Derby for a number of years the ten coaches were eventually sold to Irish Railways (Iarnod Eireann IE) in 1994 at a knock-down price and extensively re-furbished - including fitting with new T4 bogies to the same design as the ill-fated EPS 'Nightstock' but 5' 3" (1600mm) gauge. IE converted the many different interior layouts to their own standard design and fitted their own design of powered doors similar to those used on the Irish Mk3 stock.
Until the middle of 2008 they formed one of the coaching rakes for the services from Dublin to Galway and were branded 'Cú na Mara', (Connemara) but still retained the 'International' globe emblem inside.
Although they operated the named train they were generally used in common with Mk3s. Nine vehicles were re-numbered by IE 6201 to 6208 plus 6401. 6201 was a composite, the others 'Standard' class and 6401 was the Buffet Standard. One other vehicle remained in Inchicore Works in its original BR Intercity livery. Train supply was delivered by 76xx series Mk3 designed brake generator vans.
Look on Youtube® for a video clip of an express on IE with eight of the former 'International' coaches under '071 BREL Internationals'. Search for DuffBasher or 'BREL coaches'
Inside 6208 one of the open seconds (standards) in Iarnod Eireann service. Note the original International Train emblems on the vestibule panels overwritten with 'Cú na Mara'

Flickr - rowanC82

Coach number 6201 at Athenry

Flickr - rowanC82

Inside 6208

Flickr - rowanC82

Close up of the power-operated doors

Flickr - wfbakker2
For more pictures of the coaches in service look here on Neil Dinnen's new site
In November 2008 they were reported as being stored at Dublin North wall as the DMU era ousted loco-hauled stock in Ireland. Numbers 6201, 6203. 6204, 6205, 6206, 6207, 6208 and 6401.
In mid July 2009 some of them had been sold and two (6203 & 6205) less bogies were moved to the Killashee House Hotel in Naas. County Kildare in Ireland and three others (6204, 6206 & 6207) were moved to RAF Spadeadam, Cumbria, UK where it is understood they were destroyed by explosives in April 2010 (!).
The remaining 5 (including the BSK vehicle) were scrapped at Inchicore works, Dublin in late 2009
There are some photos here on Neil's excellent new site of the two coaches for Naas on the move in Ireland. Look here for recent pics of 6203 and 6305 in their new home at the Killashee House Hotel. It would seem that there remains a large amount of work to be done before they will be open to the public presumably as a restaurant.
If you fancy your own model of the International Train look here for some inspiration in 'N' gauge or here for Southern Pride's latest overlays for OO gauge. Follow the link to 'BR Mk3 coaches' then 'conversion kits'.